California Drivers Get More From the 2018 Toyota Prius C Hatchback
Everybody likes to get more for less, especially California drivers that know every day is a chance to save money, fuel, time, and peace of mind.  Whether you're looking for a vehicle that sports new and exciting tech features, or just need a reliable vehicle to stay on the road and keep busy in; the 2018 Toyota Prius will delight both your senses and your wallet!  Come visit our Toyota 101 dealership serving drivers from Burlingame and Menlo Park, and see why the 2018 Toyota Prius C is the perfect hatchback-hybrid in California.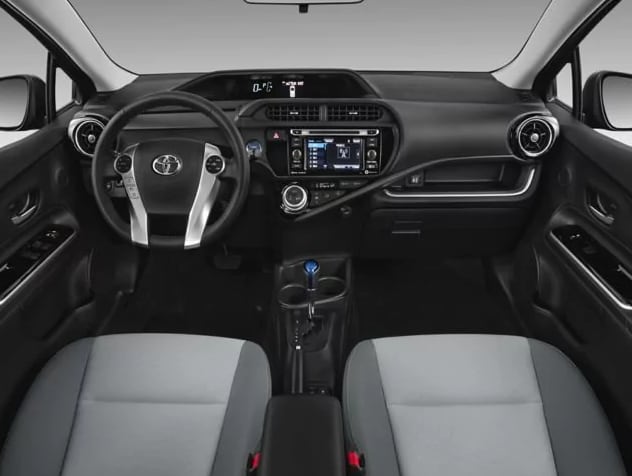 Drive Better, For Longer
The 2018 Toyota Prius C is a marvel of modern engineering that is able to reach an EPA estimated almost 50 mpg, giving you peace of mind as you enjoy driving your low-emission hybrid past gas station after gas station.  While you may not win any drag races in your Prius C, drivers are usually pleasantly surprised by how much zip the car has and enjoy its small-frame and maneuverability.  The fuel-economy of the Prius C is extremely difficult to beat, as the gasoline engine can be disengaged under 25 miles-per-hour to let the electric engine take the reins and save gas.
The engine package for the 2018 Toyota Prius C is smart, compact, and possesses a surprising amount of zip.  It possesses a 45-kilowatt electric motor that operates in tandem with the 1.5-liter inline-4 gasoline engine, which produces 73 horsepower and 82 pound-feet.
Schedule a Test Drive
Hours
Monday

9am-7pm

Tuesday

9am-7pm

Wednesday

9am-7pm

Thursday

9am-7pm

Friday

9am-7pm

Saturday

9am-7pm

Sunday

10am-7pm

The 2018 Prius C also possesses three different driving modes, normal, Eco, and EV which can create more efficiency and fuel conservation depending on the driver's preferences.  If you want to roll down the window and enjoy the Pacific air, Eco mode will divert the energy from the air conditioning system to the engine to maximize efficiency.  Serving drivers from Palo Alto and San Mateo with enthusiasm is always a priority for us at Toyota 101, and we strive for complete transparency so you can enjoy finding your Toyota Prius in Redwood City.
Test Drive the 2018 Toyota Prius C at Toyota 101
When you experience the 2018 Toyota Prius for yourself you will be amazed by how smart and well-equipped with features and tech it is.  The C model of the Toyota Prius has standard Bluetooth connectivity and Toyota Safety-Sense, and all the necessary amenities like power windows, mirrors, and illuminating LED headlights to show everything in front of you on Burlingame's roads.  Other trim levels break out the comfort features like heated faux-leather seats and a rearview camera. However, all the exciting features and tech do not subtract from the incredible efficiency and effectiveness of the hybrid-model compact hatchback.
We hope you'll come visit our team at Toyota 101 and test drive the 2018 Toyota Prius C for yourself.  You'll be amazed at how far this vehicle will take you and how much money you can save by owning it.  Come visit our team at Toyota 101 today and view our full line of new and pre-owned Toyota models.  We hope you'll visit us soon and find the perfect Toyota for you!