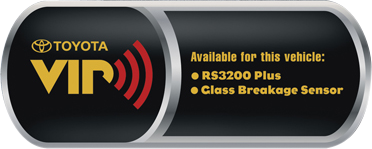 VIP SECURITY SYSTEMS
Allow the Toyota 101 Service & Parts Department to provide additional security and peace-of-mind for you and your Toyota. Add a Glass Breakage Sensor to your vehicle's factory installed anti-theft system. Or install The VIP Plus Security System for a complete vehicle security system.
Shop Security Systems +

VIP PLUS Security System
The VIP Plus (Vehicle Intrusion Protection) is a complete vehicle security system with alarm and glass breakage sensor for vehicles that already have keyless entry with remote lock/unlock. When equipped with the VIP RS3200 Plus, the vehicle's security system is activated immediately if the glass is broken or if forced entry of a side door (or the rear door) isattempted.
The system includes a wide range of security and convenience features including: automatic rearming and re-locking, door ajar warning, interior light activation, panic alarm, rolling code technology and disabling of thestarter.

Glass Breakage Sensor
The Glass Breakage Sensor (GBS) is an add-on device for vehicles that already have a factory installed anti-theft system. The GBS relies on a highly sensitive microphone designed to detect the specific frequencies of glass being struck orbroken.
When detected, it activates the anti-theft system, sounds the alarm (vehicle horn), and activates the engine immobilizer. It is capable of ignoring sounds not associated with glass being struck or broken, helping to prevent the inconvenience of false alarms. The GBS system integrates seamlessly with your vehicle's existing factory anti-theft system and remote keyless entry fob.